Domestic Energy Performance Certificates (Sale or Let)
An Energy Performance Certificate (EPC) is required when a domestic building is constructed, sold or let.
The Energy Performance Certificate (EPC) gives home owners, tenants and buyers information on the energy efficiency of their property. It gives the building a standard energy and carbon emission efficiency grade from 'A' to 'G', where 'A' is the best and with the average to date being D/E. The EPC is required by law when a building is constructed, sold or put up for rent.
You can use this information to:
cut your fuel bills
improve energy performance in your home
help cut carbon emissions
Energy Performance Certificate regulations require that everyone who either buys or newly rents a house, be informed of the calculated energy usage of the house.
The EPC report provides the property with a rating, estimated fuel costs and recommendations to reduce the fuel bills.
The report is valid for 10 years, however if a building is modified (i.e. an extension is built),
then a new certificate may be needed
Two Tone Sustainability can offer this service at a highly competitive rate and
reduce costs further with multiple buildings awarded.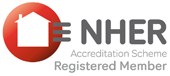 If you require any further information,
or would like to discuss how we can help your organisation,
please contact Two Tone Sustainability at your earliest opportunity.